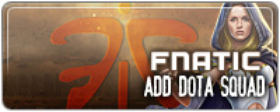 FnaticMSI is proud to announce the addition of a new DOTA division. The Last Try, a freshly formed but already highly successful squad, will be joining forces with the FnaticMSI organisation with immediate effect.
After the departure of their first DOTA squad two months ago, the management of FnaticMSI has been maintaining the commitment to DOTA to sign a new squad when the time is right. They believe that with the addition of the TLT squad they have found what they have been looking for: a stable, skilful and dedicated team, which always aims to improve.
The new FnaticMSI DOTA division will consist of:
Edvin 'Kwom' Börjesson (Team Captain)
Jonathan 'Loda' Berg
Rasmus 'MiSeRy' Berth Filipsen
Rene 'Kebap' Werner
Aidar 'Aidar' Aringazin
TLT was founded earlier this year by Edvin 'KwoM' Börjesson. Nevertheless most of the players have known each other for longer and there was no doubt that the team will get along well with each other. After most recently winning the DreamHack Summer DOTA tournament, the squad strives to get one of the best DOTA squads of the world as well as proving themselves offline - and FnaticMSI is proud to be supporting the squad on its way to the top.
Official statements:
Edvin 'Kwom' Börjesson:

I believe everyone in the clan is feeling excited about joining fnatic. We are all hoping that we can keep our winning streak as a dota team even though we recruited a new player! But in time I believe this dota team can become by faar the most legendary team the dota universe has ever whitnessed!




Elroy 'Noname' Pinto:

As we had always envisioned we wanted to get back into DOTA, after weeks of reviewing and weighing our options. We were approached by some of the best teams and in the first conversation with them (Kwom & Loda) I knew we saw eye to eye on several topics. Their view of DOTA and eSports was perfect but most importantly they were understanding of the organisation and it's views - such players are hard to come by in this day and age.

We also have a lot of activities planned with the new DOTA team, so in the coming weeks stay tuned to those.

With the addition of this DOTA team we're looking to a team that can not only match expectations of a brand like Fnatic but also be able to take on the best with great success. This so far has been perfectly reflected by the guys at The Last Try who from now on will be called FnaticMSI.DOTA!
Links:
12. jul. 2009
Comments
No comments, be the first to add one!
To post a comment, please login.